Executive Board's Contact Information 2017-2018
Here is the contact information of all our officers. Feel free to email or visit us if you have any questions about SIRRC or simply if you are interested in getting involved. We also have office hours during the week so you can come into the ANNEX and talk to an officer. We are glad to help! So check us out!
Co-Chairs:
Tiffany Neira

Major: Linguistics

Minor: Education Minor

 Hometown: Hayward, CA

Email: tiffanyneira@gmail.com

Office Hours: Mondays 5 – 6 pm @ the Annex

Tiffany starts the year with a heavy heart as this is her last year in her home away from home , UCSB. She is a 4th year student who has made the best of the years she has spent on this campus. Tiffany has been involved with SIRRC all four years and is very proud to hold the position of Executive Co-Chair. Her other involments on campus include Lambda Theta Alpha Latin Sorority Incorporated, and NASPA Undergratuate fellowship. She has also had the opportunity to study aboard in Barcelona for a semester. Feel free to stop by her officer hours if you are interested to learn more about how incredible AS SIRRC is and any of her other involvements here at UCSB!

Michelle Martinez

Major: Pyschology / Education

 Hometown: Westminster, CA

Email: Meeshtmartinez@gmail.com

Office Hours: Wednesdays 5:30 – 7:30 pm @ the Annex

Michelle is a fourth year Psychology major with an education minor. She wants to work with underrepresented high school students in the future as either an educator or counselor. She has been a mentor for SIRRC's GUIDES program since her first year. During her third year she served as an Outreach Co-Chair. She is looking forward to collaborating with other student organizations who share SIRRC's mission. In her free time she likes to read, write, go to concerts, and watch movies.
Outreach Chairs:
Winter Sierra

Major: 

Sociology and Political Science Double Major

Email: wintersierra@umail.ucsb.edu

Office Hours: Thursdays 9:30 – 11:30 am @Outreach Office of the Annex

Winter is so excited to be serving as SIRRC's Outreach Co-Chair this year and to make a difference in the lives of local high schoolers! Her passions include social justice, netflix, traveling, ice cream and making positive change in the world. Outside of SIRRC, Winter is a member of Phi Sigma Pi, volunteers at PATH and CALM (SB nonprofits) and works at UCSB Arts and Lectures. One day, she would like to influence policy on a national level to bring more protections to society's most vulnerable populations. If you would like to get involved in mentoring local high school students, would like to talk about your own passions or would just like to make a new friend she'd love to meet you! You can reach her best by email or by coming by her office hours.

Eddie Santana III

Major: Philsopgy

Minor: Education

Hometown: East Los Angeles, CA

Email:  Santanaed4@yahoo.com

Office Hours:

Tuesdays 

11 am-1 pm

 @ Outreach Office of the Annex

Eddie is a fourth year transfer student, from Cerritos College. Although school takes a big part of his time, he is not defined by just academics. He loves meeting new people, as well as exploring new places. If you really want to get to know him there is no better conversation than music. Some of his other involvements include: Transfer Student Center peer Educator, and Student Life Intern at the office of student life.
Retention ChairS:
Mara Tinajero

Major: Chicana/o Studies and Language Culture & Society Double Major

Minor: Education Minor

 Hometown: East Los Angeles, CA

Email: maratinajero@umail.ucsb.edu

Office Hours: Wednesdays 2 -4 pm @ the Annex

Mara loves the Dodgers, High School Musical, Hot Cheetos, and hats! She is a very clumsy person who also has a tendency to lose her keys. Mara describes SIRRC as her "home away from home" in which she has been able to help other students and create lifelong friendships. Some of her other commitments include the NASPA Undergraduate fellowship Program and being a Peer Advisor for the Chicana/o Studies Department. She hopes to one day to obtain a profession that will allow her to work with underrepresented students who wish to pursue higher education. If you would ever like to talk about how to further assist underrepresented students or discuss how great the Dodgers are stop by her office hours!

 Ulises Bucio
Publicity & Public relations chairs:
Carmen Garcia

Major: Linguistics

 Hometown: 

Email: 

Office Hours: Tuesday/Thursday 3:30 – 4:30 pm @ the Annex

            


Jhan Sarmiento

Major: Biology

 Hometown: San Diego,CA

Email: jsarmiento@umail.ucsb.edu

Office Hours: Tuesdays / Thursdays 3:30 – 4:30 pm

Even though being a STEM major requires straight and logical thinking, Jhan has a creative and abstract side to himself that makes him curious of all forms of artistic expression and social identity. He also enjoys cooking, drawing, graphic design and casual hangouts so feel free to visit his office hours or contact him!
Treasurer: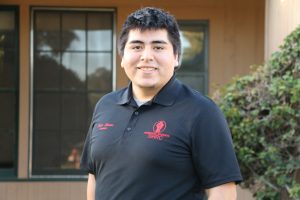 Elmer Alvarez 
Major: Sociology
Minor: Statistics
 Hometown: Fresno, CA
Email: elmer_alvarez@umail.ucsb.edu
Office Hours:  Mondays 10 – 11 am & Tuesdays 11 am – 12 pm @ the Annex
Elmer was born and raised in Fresno, California. He first joined SIRRC as a GUIDES Mentee in July 2015, then became a volunteer for the Book Bank, and is now excited to be the 2017-2018 SIRRC Treasurer. Outside SIRRC, his goals for this year include completing his studies in Sociology and Statistics, go on road trips with his friends, and making friends in every CRC in the SRB. You can find Elmer behind the desk at EOP, at the computer lab in the library, or on LinkedIn.
Community Builder: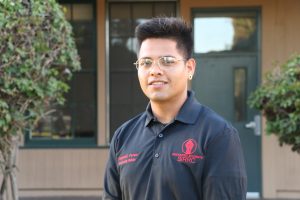 Esequiel Perez-Carmona
Major: Political Science & Global Studies Double Major
Minor: Black Studies
 Hometown: Highland Park, CA
Email: perezc.esequiel18@gmail.com
Office Hours: Tuesdays / Thursdays 11 – 12:45 pm
Esequeil Perez-Carmona is a Brown scholar, visionary, rhymeweaver, and student of life. He Loves to eat fruits and drink cold water. During his leisure time he enjoys reading books, watching anime, drawing, and working out. Esequiel views himself as the product of Xingonas. He loves been brown and loves all his peoples and communities. Much love.
Secretary: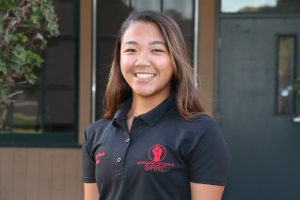 Racquel Almario
Major: Pre-Mathematical Sciences
 Hometown: San Diego, CA
Email: racquelalmario@umail.ucsb.edu
Office Hours:  Wednesdays 1 – 2 pm
@ the Annex
Racquel can type 85 words per minute. She enjoys math, but enjoys traveling more. She has been to places such as Japan, the Philippines, France, and Italy. Racquel aspires to be in the Navy in the future because she wants to visit more places around the world, but also follow in her mom's footsteps.
Book Bank DIRECTORS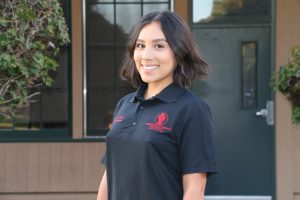 Brenda Cruz
Major: Communication
Minor: Education
 Hometown: American Canyon, CA
Email: cruzvbrenda@gmail.com
Office Hours: Tuesdays / Thursdays 11 – 12:45 pm @ the Book Bank Office
Brenda is a fourth year who transferred from Napa Valley College during Fall of 2016. She plans to one day own a business after working with the underrepresented community. She also loves being a part of SIRRC because it has brought friendships with amazing and unique people. During her free time, Brenda loves to ride her bike to Cajé in Isla Vista for iced vanilla latte's and win championships for intramural soccer.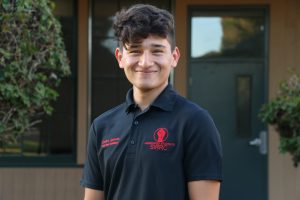 Ruben Garcia
Major: Economics & Environmental Studies Double Major
 Hometown: Chicago, IL
Email: rgarcia00@umail.ucsb.edu
Office Hours: Tuesdays 10 – 12 pm @ the Book Bank Office
If y'all need books for class, just let me know. I know a guy.
Senator Liaison

Jorge Santos

Steven Ho
Advisor
For funding requests email us at sirrc.ucsb@gmail.com